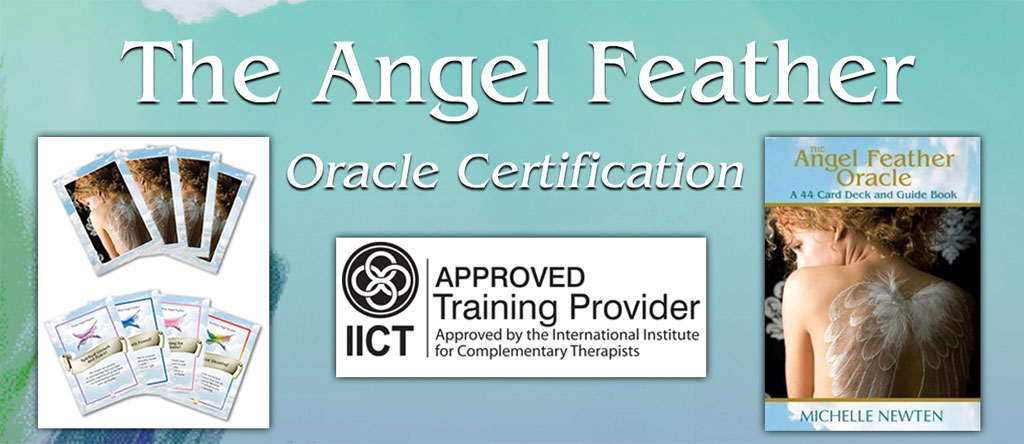 Welcome to the AOK Academy a place of knowledge and spiritual wisdom.  The AOK Academy will feature courses compiled by Spiritual Teacher and Healer Michelle Newten.  This online training facility provides quality education that can be undertaken world-wide, in the comfort of your own home and at your own pace.
When you invest in a course from the AOK Academy you are not only making a commitment to your own spiritual development but you are also joining an esteemed community of Earth Angels who are committed to sharing the love of the Angels to create a loving impact globally.
The AOK Community provides a professional platform in which you can network and gain support from like- minded souls as you establish or grow your own profitable professional practice or healing service.
Together we can make a difference by sharing love, kindness, hope and healing in the world.

All about the creator Michelle Newten
Michelle is affectionately known as 'The Aussie Angel Lady'.
Angelic Medium, Clairvoyant & Empath.  Inspirational Speaker, Metaphysical Teacher & Healer.
Self published Author of The Angel Feather Oracle,  The Angel Feather Oracle Companion Book, Angel Atars, The Angel Staircase Meditation Series & the soon to be released Archangel Michael Sword & Shield Oracle.
Her work is now collectively known as The Angels Toolbox.
Michelle worked as a Registered Nurse Division 1 for 30 years and in that time was a nurse educator and lecturer of advanced clinical nursing at La Trobe University.
In 1999 Nursing courses were replaced with studies in natural therapies as she searched for alternative healing modalities that would  aid her son who was diagnosed with autism.  To this day she is a passionate advocate for nurses and children with disabilities especially Autism.
Michelle completed many courses in alternative medicine including: Touch for Health I -IV (Kinesiology), Dip. Kinesiology (SNHS), Thought Field Therapist (Kinesiology), Dip.Crystal Healing (SNHS), Hopi Ear Candling Cert, & in 2005 became an Angel Intuitive.
At the age of 40 when she was tired and struggling she fell into the arms of her Angels and found healing for herself and the inner courage to move forward with her life purpose.  To this day her passions are working with the Angelic Realm, Kinesiology, Colour Therapy and Crystal Therapy.  All of this passion flows into her writing and teaching.  As an Earth Angel it is her mission to deliver knowledge, inspiration, hope and kindness to people world-wide.
Michelle is the director of AOK Angels which was established in 2006 with the Angels of Kindness Fund. To this day the fund is the foundation of her spiritual business and  it  continues to spread kindness world-wide through her hand made feather cards.  Her business continues to grow in Australia and touch many in the world through the wonderful medium of the internet. Michelle looks forward to opening the AOK Angels Well-being Centre at Emerald Bank Shepparton in 2015.
Michelle has a wealth of life experience and knowledge that will be shared with the world via the AOK Angels Academy.  She looks forward to providing many varied courses that will suit everyone on the path of spiritual advancement.

The Angel Feather Oracle on the surface is very easy to use oracle, that's why it is suited to all ages groups and has been received so lovingly by  many people world-wide.  Every day Michelle receives mail saying that "The Angel Feather Oracle is so accurate and provides such loving messages".
You may then be surprised to hear there are many, many, hidden depths of knowledge to this seemingly simple oracle.
Did you know that The Angel Feather Oracle combines two modalities in one?  That's correct, Angelic Counselling and Colour Therapy.
The Angel Feather Oracle through its 44 coloured feathers therefore allows you to intuitively tap into channelled Angelic wisdom and energetic colour messages that will allow you to deliver profound insight and guidance to your clients going forward.  Given the combination of modalities, healers have also been creatively incorporating The Angel Feather Oracle to  successfully add another dimension to  their healings sessions.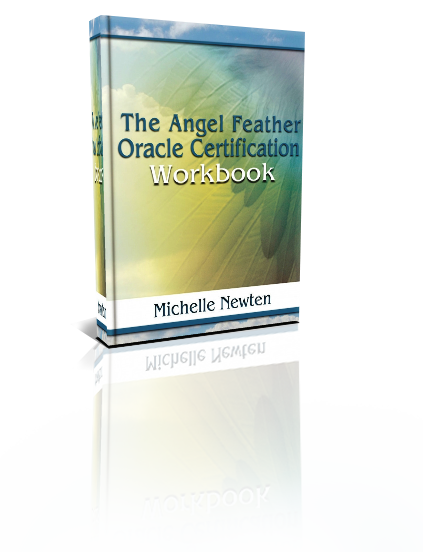 AFO Practitioner Certification:
Welcome to the first course to be offered in the AOK Academy:
The AFO Practitioner Certification: (Angel Feather Oracle reader/practitioner Certification).
Are you ready to become an AFO Practitioner?
This virtual course encompasses the study of the in-depth channelled Angelic wisdom of the Angel Feather Oracle and an exploration of colour therapy and how it can be applied to Angel readings and healing sessions. It also explores spiritual practices and techniques associated with connecting with the Angelic Realm, personally developed by Michelle over many years.